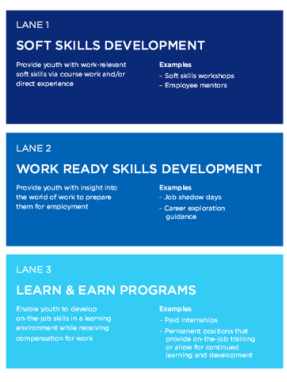 "While many youth become disconnected from education and employment, we believe that with the right interventions and supports, these young people could begin to change the trajectory of their lives.
Businesses can play an important role in making this happen and can help these youth get on a pathway to a better
future.
And businesses benefit from this work, too. Companies already involved in programs that serve this group of youth describe a range of positive outcomes resulting from these activities, including increases in employee engagement, customer loyalty, and employee retention."
This toolkit, created in collaboration with the White House Council for Community Solutions, helps employers support young people with three "lanes" of employment programs.
More information...